Answering a growing market need in pharma R&D
Over the last few decades, large pharma has gradually evolved from relying largely on in-house expertise towards a more "open innovation" type mindset, increasingly leveraging the innovation power of a new eco-system, comprising of academia, biotechs, and CROs. CROs offering innovative R&D services have hired scientists with significant industrial experience, enabling true interactive collaboration with their clients.
Symeres has been a leader in this field, increasing expertise both by recruiting seasoned drug-discovery experts and by company acquisitions. Our journey started over a decade ago, at that time under the legacy names of Mercachem and Syncom. Since then, steady growth of medicinal chemistry can be observed, as shown in Scheme 1.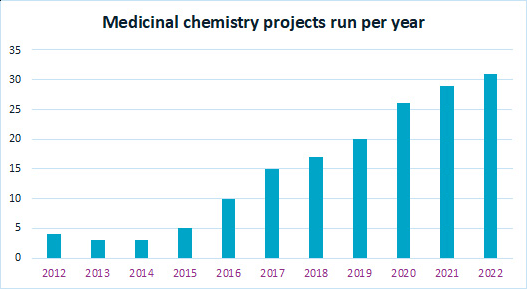 Integrated drug discovery requires three crucial pillars: medicinal chemistry (including synthetic chemistry, drug design, modeling, and parallel chemistry), ADME-Tox, and target-disease biology. Symeres' medicinal chemistry department was built by recruiting renowned experts in the area, who rapidly converted their design ideas into physical compounds, augmented by existing synthetic organic chemistry expertise available at the company. In 2020, we added our Admescope ADME-Tox platform, giving our projects access to early ADME assays collocated with medicinal chemistry in the Netherlands, and a full suite of in vitro ADME-Tox assays and pharmacokinetics models at our site in Finland.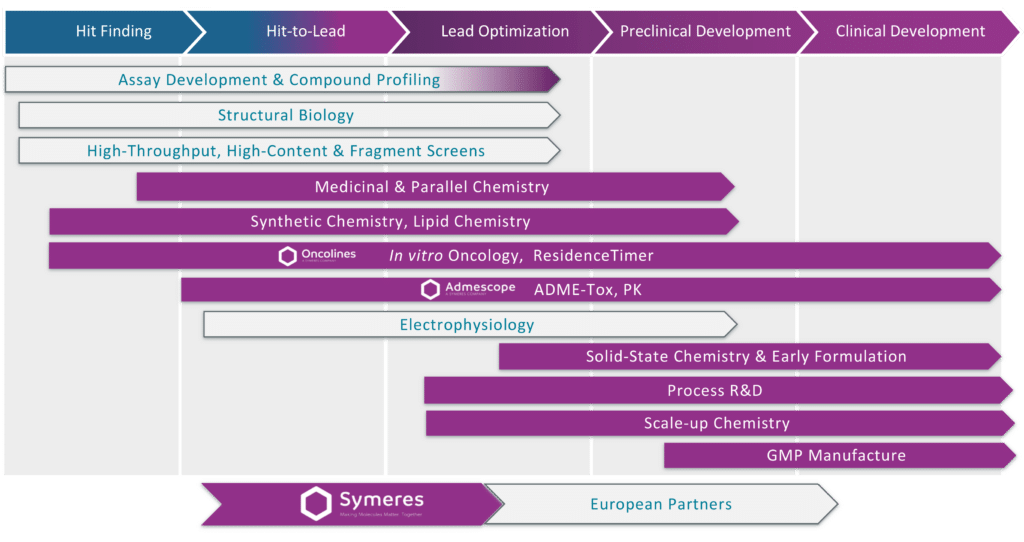 With the increasing reliance of biotech and pharma clients on fully integrated outsourcing, for several years, we have established a suite of strategic partnerships with high-quality European CROs. In the fields of in vitro assays, including electrophysiology and high-throughput screening, we have a long-established alliance with Axxam in Milan, Italy. We complemented this biology platform with the acquisition of Oncolines earlier this year, adding both a strong in vitro oncology platform, ResidenceTimer SPR, and significant disease biology expertise to our in-house portfolio. Expertise in structural biology and fragment-based approaches for a range of target classes is available via our strategic alliances with Proteros, LeadXpro, and ZoBio.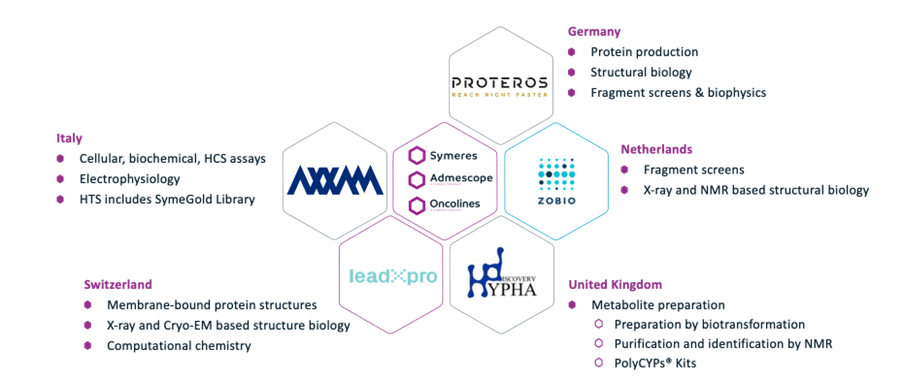 Integrated drug-discovery projects involve optimizing numerous parameters, and multiple design–make–test iterations are required. As creating structure–activity and structure–property relationships is an extremely complex challenge, seasoned experts are key. All properties of a given molecule, from activity on the target of interest to selectivity, physicochemical and ADME properties, and the overall toxicity profile, are interconnected, similar to the famous Rubik's cube. Solving just one of the faces of the puzzle isn't enough, all properties need to be closely looked at during incremental optimization activities.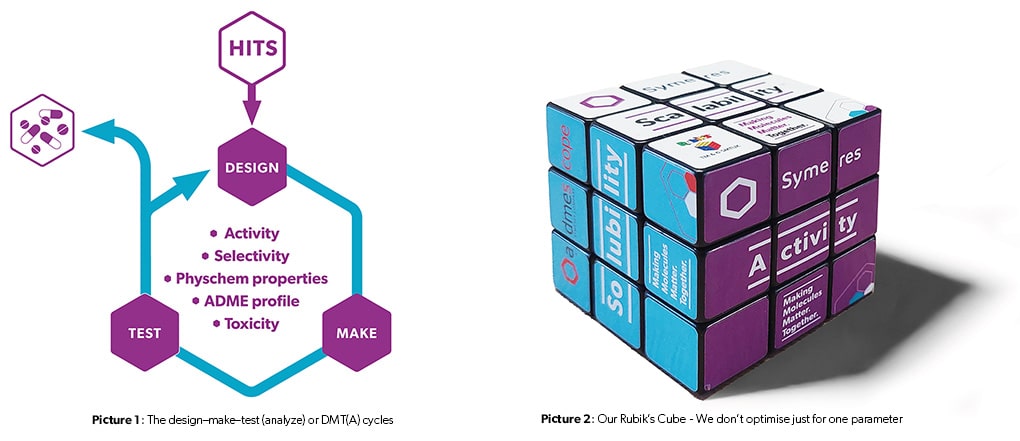 The drug-discovery engine at Symeres has an impressive track record, with at least 10 clinical candidate nominations, which have led to 4 molecules entering clinical research. Having delivered candidates, we continue to help our clients. Our development teams progress integrated development programs via scalable route scouting, process R&D, solid-state chemistry, early formulation, and both non-GMP and GMP manufacturing with full analytical chemistry support.
To us scientists at a service-providing company such as Symeres, the most valuable moments are when we reach the goals we set together with our customers. A representative for one recent client wrote:
"Please pass along my gratitude to everyone involved. It is a rare opportunity to work on a program that can so greatly benefit people's lives. You should all feel very proud of the intellectual contributions you have made and know that people's lives have been greatly impacted by them."
We not only make molecules matter, we also make the patients and their families matter. Together.
Allow us to make it easy for you to contact our Senior VP Drug Discovery immediately. Fill in the form below to get in contact with Dr. Luc van Hijfte.