An experienced team to take your route to the next level.
Make use of our 30 years' experience and collective brainpower to design the optimal route towards your new drug. Furthermore, the process can seamlessly transition to our scale-up non-GMP or GMP units.
We offer an integrated approach to process development to achieve a comprehensive control strategy and ensure that the chemistry developed is readily and safely scalable in a manufacturing environment. Our development approach aims at delivering a manufacturing route that satisfies operational performance requirements and those of the regulatory authorities.
With two separate non-GMP and cGMP supporting business units, key preclinical milestones can be reached quickly, without the GMP overhead. We ensure a seamless transition into our GMP operation for clinical API manufacturing. This is a highly efficient and cost-competitive model, whereby you can always count on an experienced support team with a dedicated project manager.
---
Process Research and Development
We can help to mitigate CMC risk when transitioning from research to development.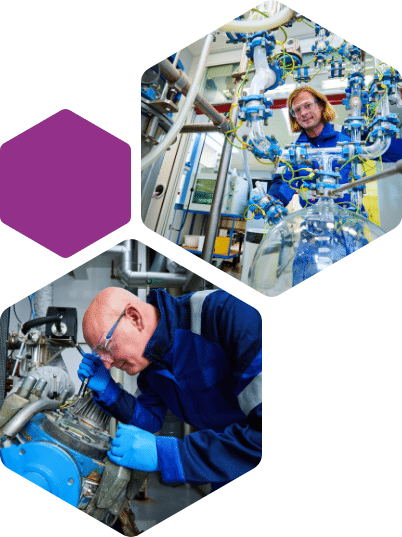 We offer route scouting, risk assessments, catalyst screens, and early safety studies. This is supported by parallel experimentation and design-of-experiment (DoE) optimization, to ensure that the route chosen for clinical supply will be robust, reliable, and scalable. Symeres has developed hundreds of novel routes for innovative APIs throughout the years.
---
GMP Manufacturing
Close collaboration with our experienced process engineers aid our efforts achieve right first time scale-up of processes for GMP manufacture.
The processes developed at our facilities are adapted to the plant environment in close collaboration with experienced process engineers. The limits of operating conditions are tested and their effect on yield and purity evaluated to gain full control over critical process parameters (CPPs). The choice of chemistry applied, as well as of solvents and materials, aims to guarantee process and patient safety. Special attention is paid to possible formation and detection of potentially genotoxic impurities (PGIs). Our scientists combine their knowledge and expertise to develop a process that delivers the requested API with the desired critical quality attributes (CQAs), yield, and solid form. Our efforts aim to achieve right first time scale-up.
Analysts, chemists, and solid-state experts work together to achieve a comprehensive control strategy and ensure that the processes developed are readily and safely scalable in a manufacturing environment.
Analytical support is provided throughout the project life cycle from development to manufacturing. Robust project-specific analytical methods are developed and validated appropriately throughout the clinical phase of the project.
---
GMP Starting Materials
To deliver starting materials of the best quality and suitability for GMP manufacturing, Symeres is equipped with an experienced non-GMP scale-up lab.
Control over the quality and delivery of the starting materials is essential in GMP manufacturing. Symeres has a non-GMP scale-up lab experienced in the synthesis of regulatory starting materials. In our facilities, we can run reactions up to 50 L scale (four 50 L reactors (QVF, ChemGlass) and multiple 20 L reactors) and perform column chromatography on large scale (20 kg silica).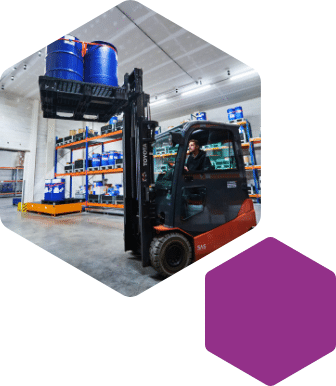 ---
Solid-State Chemistry and Pre-Formulation Research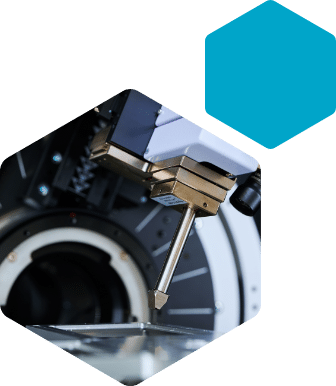 Our Solid-State experts can help you to selectively crystallize the optimal stable form and formulate your compound.
A controlled crystallization is the preferred isolation method to obtain purified material of a specific polymorphic (salt) form and crystal habit. The solid form determines the stability, solubility and permeability of the compound; therefore, the selection of a pharmaceutically suitable form will manage the risks in further development. The pre-formulation experts study excipient compatibility, pH-dependent solubility and dissolution rate optimization to improve the bioavailability. Symeres has performed hundreds of form characterization and selection screens on innovative APIs throughout the years.
Read more about our Solid-State capabilities.
Watch the new video of our Solid-State Center of Excellence:
---
ICH Stability Studies
Symeres has the capability to perform stability studies in accordance with ICH guidelines.
We offer the possibility to perform long-term and accelerated stability studies under standard conditions (5°C, 40°C/75% RH, 30°C/65% RH, 25°C/60% RH), according to ICH Q1A guidelines. Selected batches are stored in the agreed packaging in our qualified stability chambers. Validated stability-indicating analytical methods are used to monitor variations of the relevant attributes.
---
Quality Unit
Compliance with regulations forms the cornerstone of your project and we ensure quality at all stages of manufacture.
Our Weert (The Netherlands) and Prague (Czech Republic) facilities are GMP certified and FDA inspected.
Our Quality Management System (QMS) is in place to guarantee compliance to all required elements of GMP, such as those described in the ICH Q7 guidelines and Eudralex, Vol. 4.
Our Quality Assurance (QA) and Quality Control (QC) departments are responsible for ensuring that all finished products are manufactured in accordance with relevant procedures, requirements, and specifications, in line with cGMP guidelines and client-specific quality agreements.
Our employees are trained to develop a strong compliance mindset to guarantee product assurance and adherence to regulations. A mentality of continuous improvement is embedded in our organization.
---
EHS Compliance
We evaluate all materials and projects entering Symeres facilities to minimize risks for all involved.
Our first priority is to guarantee the safety of patients, our employees, and the environment.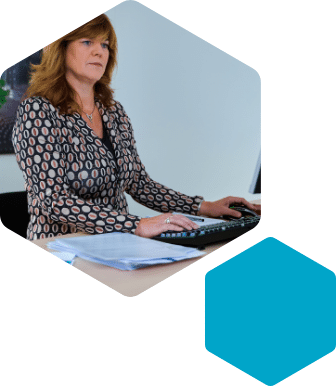 All incoming materials and projects are evaluated by our Environment, Health, and Safety (EHS) officers to determine if the material is suitable for our facilities and unit operations and which engineering controls and personal protection equipment (PPEs) are required to prevent exposure and (cross-)contamination.